Video editing is very professional; being amateur can cause many problems. If you want to edit your videos, our app "Video maker of photos with music: Video maker, Slideshow editor" brings you the most advanced and easy-to-use options to edit your videos. Now you can edit your videos and make slideshows simultaneously with no more complications, look at our specially designed features to make editing more fun and easier for you. Follow the easy steps given below the features to use them properly.
Video Maker of Photos with Music: Video Editor Slideshow Maker is the easiest video editing tool and slideshow maker to make stylish videos/photos.
This app offers the best tools to quickly apply the overlaying theme/merge/rotate/trim your clips. You can trim video in parts, merge images from your gallery or album, and compress video without losing quality like a professional video producer. Only takes one tap to create an awesome music video or ideal slideshow instantly.
Step 1: Open Video Maker of Photos with Music: Video Editor Slideshow Maker on your device.
Click on the "square video" option in the first row on the home screen of the app.
Choose the desired video from your device.
Step 2: Click on the "pic video" to pick another video from your device.
The "Canvas" option in social media platforms allows you to select the aspect ratio for your content, which determines the dimensions of your post. Choosing the correct aspect ratio is important because it affects how your content is displayed on different devices and in different feed types. Here are the most common aspect ratios and their intended uses:
Square (1:1): Square aspect ratio is great for posts that don't have a specific orientation, such as product shots, logos, or text-based graphics.

Portrait (4:5 or 5:7): Portrait aspect ratio is ideal for posts featuring people or vertical product shots.

Landscape (16:9): Landscape aspect ratio is best for posts that require a wider view, such as scenic shots, event photos, or videos.

Vertical (9:16): Vertical aspect ratio is best for portrait-oriented content, like IGTV videos, Boomerangs, and portrait-style photos.
To ensure that your content looks its best on social media, choose the aspect ratio that best fits the subject of your post and make sure to preview your post on different devices before sharing it.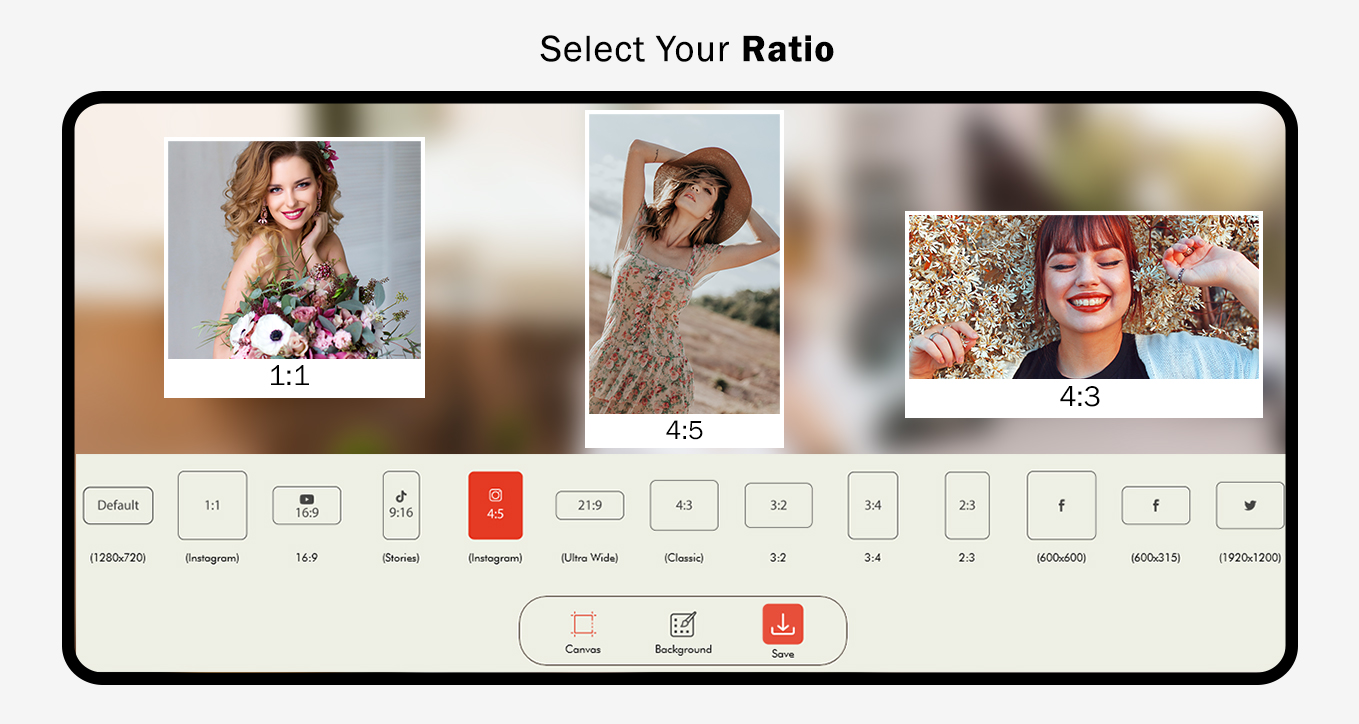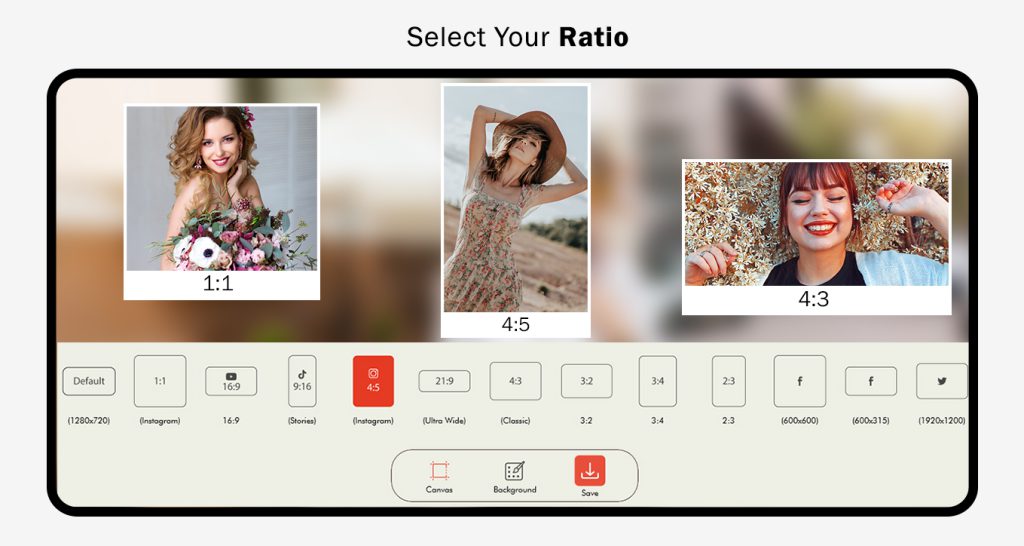 Step 3:  Background for your video content. This background can either be a solid color or an image, and it will serve as the backdrop for your video. Choosing the correct background can help enhance the overall look and feel of your video, and make it stand out in a viewer's feed. Here are some tips for selecting the right background for your video:
Choose a background that complements the subject of your video: If your video features a product, choose a background that contrasts with the product, making it stand out. If your video is more about the scenery, choose a background that matches the environment.

Consider the mood you want to convey: Different colors and images can evoke different emotions, so choose a background that fits the tone of your video. For example, a bright yellow background can convey optimism, while a deep blue background can convey calmness.

Make sure your background does not distract from your subject: A busy or cluttered background can make it difficult for viewers to focus on the subject of your video.

Preview your background on different devices: Different devices may display colors and images differently, so make sure to preview your background on a variety of devices to ensure it looks the way you want it to.
By considering these tips and using the "Canvas" option in social media platforms, you can choose a background that will make your video stand out and effectively convey your message.
All done now click on save button and save your video .