Video editing is a very essential skill these days, we all need it somewhere in our daily lives, whether it's short funny videos, school projects, social media stories. It's simple video editing but it can be a tough job too. Now with our app "video joiner: video merger" we are providing you a platform to change that, now you can create and edit your desired videos very easily. It's a simple to use yet very creative app that allows you to join or merge your videos and make a perfect one as you like. Our newly advanced and easily operating features allows you to create fabulous videos in the comfort of your bed. Don't wait for anything else, take a look at our amazing features and follow the given steps to create and merge your favourite videos into one. Video Joiner : Video Merger has a very simple to use interface.
Video Merger is a simple app to merge and join video files into one file. It supports different video formats. Video Merge – Side By Side is a unique app which lets you make creative videos. Take two videos and merge them into one video and see them playing side by side.
Merging videos is a very important part of video editing as it allows you to join your desired videos and make one single video with all of them. It was a very complicated job but now with "video joiner: video merger" it is very easy to join or merge your desired videos. Our "merge video" feature provides you every little option you will need to merge your videos. Follow the steps given below to start merging your videos right now. It's not just about merging the videos or joining them together it's also about which ones you want to merge.
By using Video Merge you can:
Video Merge Side by Side: Select two videos and the videos will merge in side by side style.

Video Merge Up Down: Select two videos and the videos will merge in up down style.

Video Merge Sequentially: Select two videos and the videos will merge one after one style.

Save and share merged videos on any social networks with friends and family.
For a perfect mood you will need a perfect background too, as we all know background adds a very important factor for the aesthetic of the project with our broad options for background you can select any background for your video because with us, we want you to experience the best according to your mood. Merging videos with us will never be boring as we are here to match our vibe with yours every time, select any background option anytime and anywhere. Follow these easy steps given below to start choosing the background for your videos right now and start working with a personalised and comfortable environment.
Step 1: Open "video joiner: video merger" on your device.
Click on the "merge video" option on the home screen of the app.

Select any videos from the device by clicking on the "add video" option.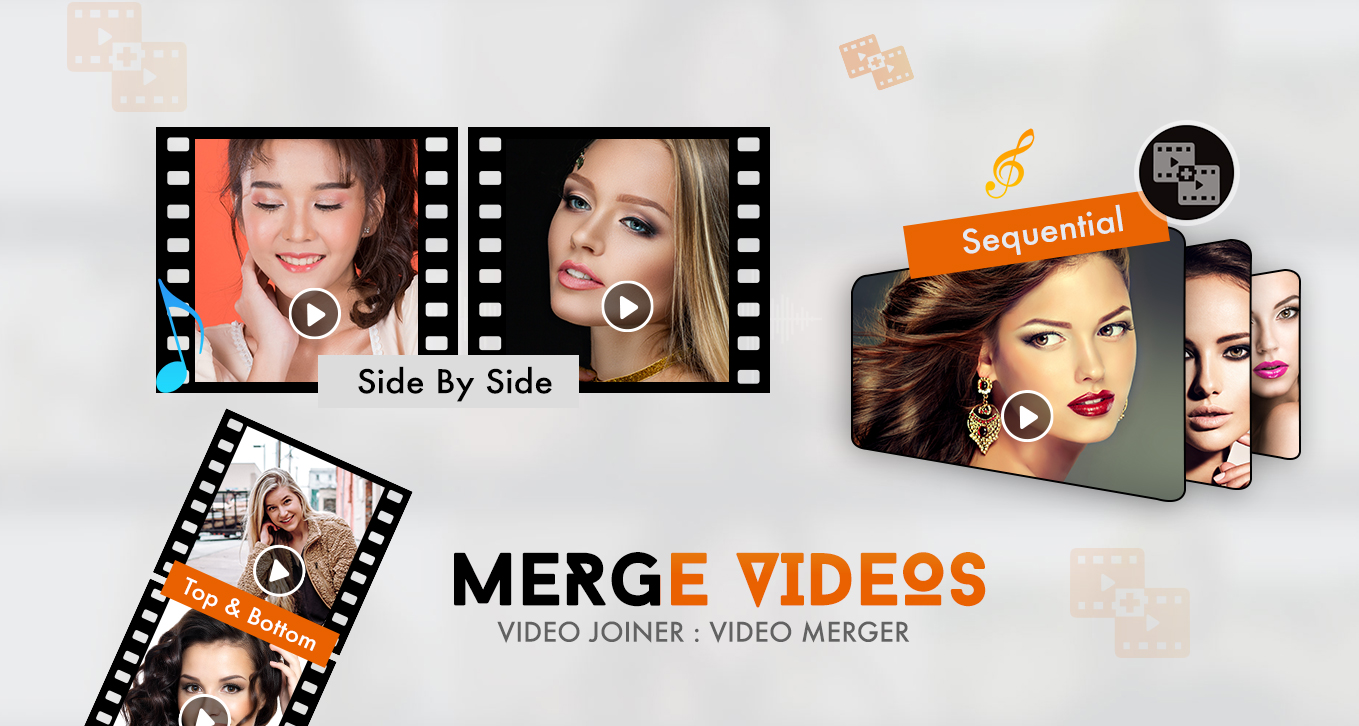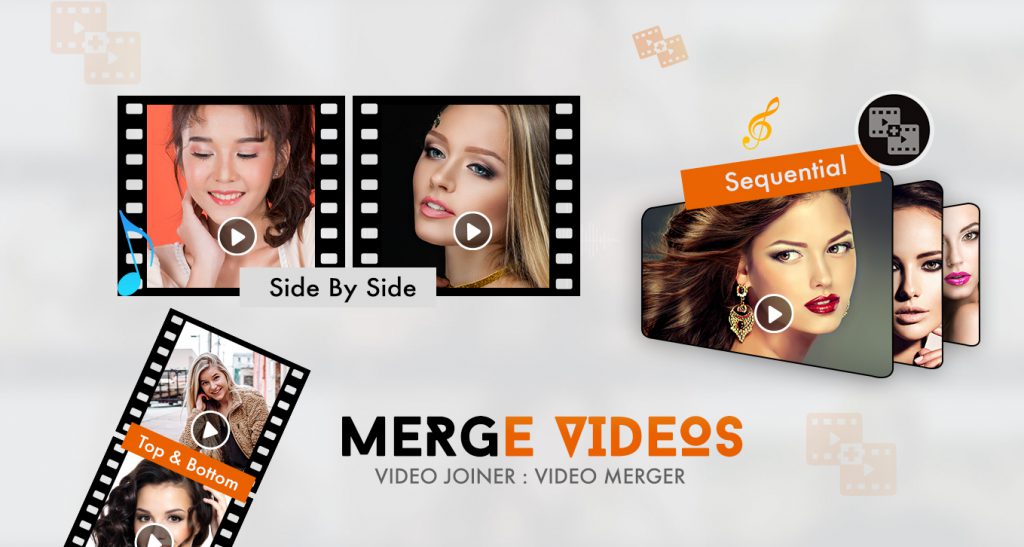 Step 2: Click on the "Add Background" option given on the bottom of the screen.
Now you can choose from our different options to set background on your videos.

You can pick color from the video itself by clicking on the "Color Picker" button and than drag the cursor and select your desired background color. 

Set up a textured background by clicking on the "Texture BG" button. 

You can add Plain color pallets to your background as well by clicking on the "Color" button. 

Choose from multiple color options and click on "Audio Settings for moving forward.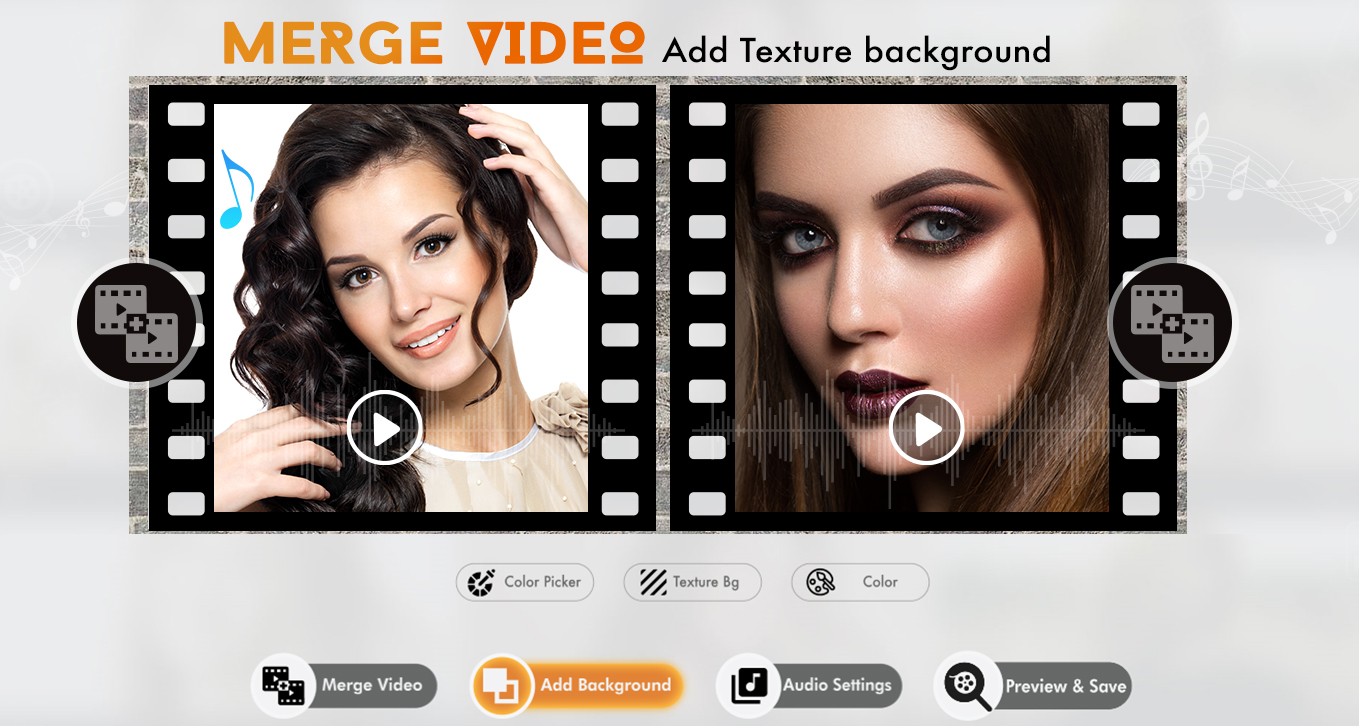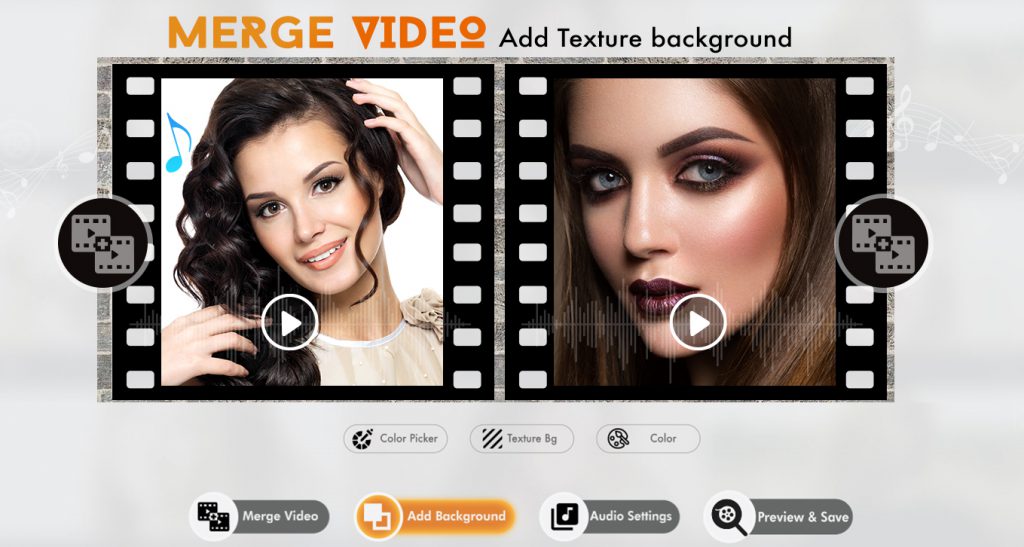 Step 3: Save and share 
Click on the Merge video option to move forward.

Click on save button and wait for saving.
After save you can share app open save file folder.